The life and times of Mandela
"Nelson Mandela is a universal symbol of freedom and reconciliation,
an icon representing the triumph of the human spirit."
Nelson Rolihlahla Mandela became known and respected all over the world as a symbol of the struggle against apartheid and all forms of racism; the icon and the hero of African liberation.
Mandela or Madiba, as he was affectionately known, has been called a freedom fighter, a great man, South Africa's Favourite Son, a global icon and a living legend, among countless other names. He has been an activist, a political prisoner, South Africa's first democratically elected president, an international peacemaker and statesman, and a Nobel Peace Prize winner.
As a husband and a father, Mandela sacrificed the joys of family life and of seeing his children grow up. As a young man, he missed out on a normal life spent with family and friends and pursuing a career of his choice, to fight for the cause he unshakably stood for.
Most ordinary South Africans knew little about Mandela during his prison years, as the apartheid government suppressed information, and what was released was biased. Limited information about Mandela was available from the international press, anti-apartheid activist groups and the Free Nelson Mandela campaign.
But prison bars could not prevent him from continuing to inspire his people to struggle and sacrifice for their liberation. Public opinion polls repeatedly showed that he was the most popular leader the country has ever had. As the Commonwealth Eminent Persons Group observed in 1986, he had become "a living legend", galvanising the resistance in his country.
He is the most honoured political prisoner in history. He has received prestigious international awards, the freedom of many cities and honorary degrees from several universities.
Musicians have been inspired to compose songs and music in his honour. Major international art exhibits have been dedicated to him and some of the most prominent writers have contributed to books for him and about him. Even an atomic particle has been named after him.
Mandela is a universal symbol of freedom and reconciliation, an icon representing the triumph of the human spirit. During his lifetime he not only dedicated himself to the struggle of the African people, but with his humility, and his spirit of forgiveness, he captured hearts and inspired people all over the world. As South Africans, we owe it to this great champion of our nation to continue to live by his example.
The early years
Rolihlahla Nelson Mandela was born in Mvezo, a village near Mthatha in the Transkei, on 18 July 1918, to Nongaphi Nosekeni and Gadla Henry Mandela. His father was the key counsellor/adviser to the Thembu royal house. His Xhosa name Rolihlahla literally means "pulling the branch of a tree". After his father's death in 1927, the young Rolihlahla became the ward of Chief Jongintaba Dalindyebo, the acting regent of the Thembu nation. It was at the Thembu royal homestead that his personality, values and political views were shaped. Hearing the elders' stories of his ancestors' valour during the wars of resistance to colonialism, he dreamed also of making his own contribution to the freedom struggle of his people.
After receiving his primary education at a local mission school, where he was given the name Nelson, he was sent to the Clarkebury Boarding Institute for his Junior Certificate and then to Healdtown, a reputable Wesleyan secondary school, where he matriculated. He then enrolled at the University College of Fort Hare for a Bachelor of Arts (BA) Degree where he was elected onto the Students' Representative Council. He was suspended from college for joining a protest boycott, along with Oliver Tambo.
Shortly after his return to the royal homestead, he and his cousin, Justice, ran away to Johannesburg to avoid arranged marriages and for a short period he worked as a mine policeman. Mandela was introduced to Walter Sisulu in 1941 and it was Sisulu who arranged for him to serve his articles at Lazar Sidelsky's law firm. Completing his BA through the University of South Africa (Unisa) in 1942, he commenced study for his Bachelor of Laws Degree shortly afterwards (though he left the University of the Witwatersrand without graduating in 1948). He entered politics in earnest while studying, and joined the African National Congress (ANC) in 1943.
At the height of the Second World War in 1944, a small group of young Africans who were members of the ANC, banded together under the leadership of Anton Lembede. Among them were William Nkomo, Sisulu, Oliver R Tambo, Ashby P Mda and Mandela. Starting out with 60 members, all of whom were residing around the Witwatersrand, these young people set themselves the formidable task of transforming the ANC into a more radical mass movement.
In September 1944, they came together to found the African National Congress Youth League (ANCYL).
Mandela soon impressed his peers by his disciplined work and consistent effort and was elected as the league's national secretary in 1948. Through painstaking work, campaigning at the grass-roots and through its mouthpiece Inyaniso ("Truth"), the ANCYL was able to canvass support for its policies among the ANC membership.
[top]
The political journey
Spurred on by the victory of the National Party, which won the 1948 all-white elections on the platform of apartheid, at the 1949 Annual Conference, the Programme of Action, inspired by the Youth League, which advocated the weapons of boycott, strike, civil disobedience and non-cooperation, was accepted as official ANC policy.
In December, Mandela was elected to the National Executive Committee at the National Conference.
When the ANC launched its Campaign for the Defiance of Unjust Laws in 1952, Mandela, by then president of the Youth League, was elected national volunteer-in-chief. The Defiance Campaign was conceived as a mass civil disobedience campaign that would snowball from a core of selected volunteers to involve more and more ordinary people, culminating in mass defiance. Fulfilling his responsibility as volunteer-in-chief, Mandela travelled the country, organising resistance to discriminatory legislation. Charged, with Moroka, Sisulu and 17 others, and brought to trial for his role in the campaign, the court found that Mandela and his co-accused had consistently advised their followers to adopt a peaceful course of action and to avoid all violence.
For his part in the Defiance Campaign, Mandela was convicted of contravening the Suppression of Communism Act and given a suspended prison sentence. Shortly after the campaign ended, he was also prohibited from attending gatherings and confined to Johannesburg for six months.
In December 1952, in partnership with Tambo, Mandela opened South Africa's first black law firm in central Johannesburg.
In 1953, Mandela was given the responsibility to prepare a plan that would enable the leadership of the movement to maintain dynamic contact with its membership without recourse to public meetings. The objective was to prepare for the possibility that the ANC would, like the Communist Party, be declared illegal and to ensure that the organisation would be able to operate from underground. This was the M-Plan, named after him.
During the early 1950s, Mandela played an important part in leading the resistance to the Western Areas removals, and to the introduction of Bantu Education. He also played a significant role in popularising the Freedom Charter, adopted by the Congress of the People in 1955.
During the whole of the 1950s, Mandela was the victim of various forms of repression. He was banned, arrested and imprisoned. A five-year banning order was enforced against him in March 1956.
[top]
The prison years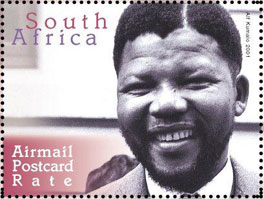 For much of the latter half of the 1950s, Mandela was one of the 156 accused in the mammoth Treason Trial. After the Sharpeville Massacre on 21 March 1960, the ANC was outlawed, and Mandela, still on trial, was detained, along with hundreds of others.
The Treason Trial collapsed in 1961 as South Africa was being steered towards the adoption of a republic. With the ANC now illegal, the leadership picked up the threads from its underground headquarters and Nelson Mandela emerged as the leading figure in this new phase of struggle.
Forced to live apart from his family, moving from place to place to evade detection by the Government's ubiquitous informers and police spies, Mandela had to adopt a number of disguises. Sometimes dressed as a labourer, Politicsat other times as a chauffeur, his successful evasion of the police earned him the title of the Black Pimpernel.
It was during this time that he, together with other leaders of the ANC, constituted a new section of the liberation movement, Umkhonto we Sizwe (MK), as an armed nucleus with a view to preparing for armed struggle, with Mandela as its commander-in-chief.
In 1962, Mandela left the country as "David Motsamayi", and travelled abroad for several months. In Ethiopia, he addressed the Conference of the Pan-African Freedom Movement of East and Central Africa, and was warmly received by senior political leaders in several countries, including the then Tanganyika, Senegal, Ghana and Sierra Leone. He also spent time in London. During this trip, Mandela met with the first group of 21 MK recruits on their way to Addis Ababa for guerrilla training.
Not long after his return to South Africa, Mandela was arrested, on 5 August, and charged with illegal exit from the country, and incitement to strike.
Mandela was convicted and sentenced to five years imprisonment. He was transferred to Robben Island in May 1963 only to be brought back to Pretoria again in July.
Not long afterwards, he encountered Thomas Mashifane, the foreman from Liliesleaf Farm in Rivonia where MK had set up their headquarters. He knew then that their hide-out had been discovered. A few days later, he and 10 others were charged with sabotage.
The Rivonia Trial, as it came to be known, lasted eight months.
Mandela's statement in court during the trial is a classic in the history of the resistance to apartheid, and has been an inspiration to all who have opposed it. He ended with these words: "I have fought against white domination, and I have fought against black domination. I have cherished the ideal of a democratic and free society in which all persons live together in harmony and with equal opportunities. It is an ideal which I hope to live for and to achieve. But if needs be, it is an ideal for which I am prepared to die."
All but two of the accused were found guilty and sentenced to life imprisonment on 12 June 1964. The black prisoners were flown secretly to Robben Island immediately after the trial was over to begin serving their sentences.
In March 1982, after 18 years, he was transferred to Pollsmoor Prison in Cape Town (with Sisulu, Raymond Mhlaba and Andrew Mlangeni) and in December 1988, he was moved to the Victor Verster Prison near Paarl, from where he was eventually released. While in prison, Mandela flatly rejected offers made by his jailers for remission of sentence in exchange for accepting the bantustan policy by recognising the independence of the Transkei and agreeing to settle there. Again in the 1980s, Mandela and others rejected an offer of release on condition that he renounce violence.
Nevertheless, Mandela did initiate talks with the apartheid regime in 1985, when he wrote to then Minister of Justice, Kobie Coetsee. They first met later that year when Mandela was hospitalised for prostate surgery. Shortly after this, he was moved to a single cell at Pollsmoor and this gave Mandela the chance to start a dialogue with the Government – which took the form of "talks about talks". Throughout this process, he was adamant that negotiations could only be carried out by the full ANC leadership.
Released on 11 February 1990, Mandela plunged wholeheartedly into his life's work, striving to attain the goals he and others had set out almost four decades earlier. In 1991, at the first national conference of the ANC held inside South Africa after being banned for decades, Nelson Mandela was elected president of the ANC while his lifelong friend and colleague, Oliver Tambo, became the organisation's national chairperson.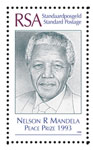 In a life that symbolises the triumph of the human spirit, Nelson Mandela accepted the 1993 Nobel Peace Prize (along with FW de Klerk) on behalf of all South Africans who suffered and sacrificed so much to bring peace to our land.
The era of apartheid formally came to an end on 27 April 1994, when Nelson Mandela voted for the first time in his life – along with his people. However, long before that date, it had become clear, even before the start of the Convention for a Democratic South Africa (Codesa) negotiations at the World Trade Centre in Kempton Park, that the ANC was increasingly charting the future of South Africa.
Rolihlahla Nelson Dalibunga Mandela was inaugurated as President of a democratic South Africa on 10 May 1994. In his inauguration speech, he said: "We dedicate this day to all the heroes and heroines in this country and the rest of the world who sacrificed in many ways and surrendered their lives so that we could be free. Their dreams have become reality. Freedom is their reward. We are both humbled and elevated by the honour and privilege that you, the people of South Africa, have bestowed on us, as the first President of a united, democratic, non-racial and non-sexist government."
In June 1999, Nelson Mandela retired from the Presidency of South Africa. But although he retired as President of South Africa, he worked tirelessly, campaigning globally for peace, children and the fight against HIV/Aids in particular.
Shortly before his 86th birthday in June 2004, Mandela officially retired from public life. However, he did not retreat from working for the good of the world – as a testimony to his sharp political intellect, wisdom and unrelenting commitment to make the world a better place, Mandela formed the prestigious group of Elders, an independent group of eminent global leaders, who offer their collective influence and experience to support peace-building, help address major causes oh human suffering and promote the shared interest of humanity.
General enquiries
Tel: 012 473 0114 or 012 473 0389
E-mail: information@gcis.gov.za
[top]